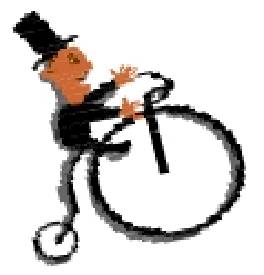 Whether they are Young or Older,
People sometimes have some Problems
A Trubble shared should be a Trubble halved, And not be a Trubble Doubled!

ALL people have Problems
SOME of the time
SOME people have Problems
ALL of the time
Everything goes into my Magic Hat
Where it will be SAFE

Set the Scene right and I am likely to BELIEVE Anything
No-One can Blame YOU for
getting SET-UP
We can ALL Learn!
Watch THE REAL HUSTLE on TV!
BELIEFS & MYTHS We Live By
Suppose I think that's a Dinosaur flying by, says Doc, then I'll probably BEHAVE as if there IS one


Can I persuade YOU there's one?
Can someone convince ME there is?
Set the Scene right and I'm likely to BELIEVE Anything
Maybe I read stories when little, and Dinos were Good
Maybe someone said they were Scarey
It might seem Prudent to Believe something is Good
Or equally Prudent to Believe some things are Bad
We probably Forget where most of it began -
But we ACT as if they are True or Real
I might just Change my Mind about some of it
Someone might talk things over to Change my Mind
So Far So Good - That's Common Sense

WHAT IF one Person or a Group can make Money out of changing my Beliefs or changing my Behaviour? (actually Either can work for Both)
SUPPOSE they studied Group Pressures, Social situations, HOW to change a Belief
They could be £££'s-in or SIMPLY get some Power
When I say SIMPLY I mean it is quite SIMPLE to do
There will always be Leader Types
And People more likely to Follow a Lead
What I refer to is something ELSE, call it Psycho-Social
Influence, Factors or What-Have-You
It's important to REALLY
THINK for YOURSELF!

DON'T GET DRAWN INTO
SOMEONE ELSE'S WEB
You can Make Your Own Theories
You Don't Have to accept Other People's
Watch Video 'If Your Face Doesn't Fit'
DOC MATRIX BOOKList on BELIEFS & BEHAVIOUR
'An Introduction to Social Anthropology: Other People's Worlds'
by Joy Hendry
'A Reader in the Anthropology of Religion' ed. Michael Lambek
'Britain on the Couch' by Oliver James
'Cross-Cultural Psychology' by Berry, Poortinga, Segall, Dasen
'Eccentric & Bizarre Behaviours' by Franzini & Grossberg
'Extraordinary Popular Delusions' by Charles Mackay
'Fugitive Minds' by Antonio Melechi
'Messengers of Deception' by Jacques Vallee
'Phantoms of the Brain' by Blakeslee & Ramachandran
'Pointed Observations' by Kevin R D Shepherd
'Social Psychology' by M A Hogg & G M Vaughan
'Spying in Guru Land' by William Shaw
'The Anthropology of Religion' by Fiona Bowie
'The Man who Mistook his Wife for a Hat' by Oliver Sacks
'The Psychic Tourist' by William Little
'The Secret World of Cults' by Jean Ritchie
'The Stargate Conspiracy' by Lynn Picknett & Clive Prince
'The Supernatural' by Will Storr
'The Wayward Mind' by Guy Claxton
'Worldviews' by Ninian Smart
See Doc Matrix Pages on
Missing from Home/ Runaways
and Seeking Help/ Self-Help
NEW on this SITE:
Human Rights, Miscarriages of Justice,
Mental Health & Discrimination
Doc's Notes on Personal Safety
ABUSIVE or DAMAGING THERAPY/HELP
Go to Let's Reduce Abuse
on this Website about seeking therapy
or when help 'goes wrong'
Roll the mouse over the image below

If you have tales which are relevant or funny even, let Doc know by email, making it clear whether they are Confidential or you think they could help others
Let Doc know if you find any good Links, or somewhere offering constructive or creative Help
http://whorls.wufoo.com/forms/doc-matrix/