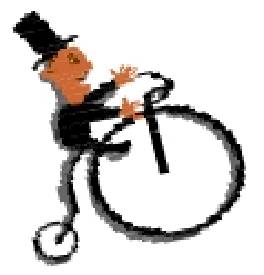 Whether they are Young or Older,
People sometimes have some Problems
A Trubble shared should be a Trubble halved, And not be a Trubble Doubled!

ALL people have Problems
SOME of the time
SOME people have Problems
ALL of the time
Everything goes into my Magic Hat
Where it will be SAFE

NEW on this SITE:
Human Rights, Miscarriages of Justice,
Mental Health & Discrimination
Doc's Notes on Personal Safety
Let's Reduce Abuse
It's important to REALLY THINK for YOURSELF!
PICK-YOUR-OWN PERSONALITY PARTS & ROLES
Contrary to what many people think about personality being pretty consistent, we tend to use whims and strategies of behaviour more than we'd like to admit.
We are a mixture of needs and ideas, some of which may indeed be consistent, and it helps us to know what to expect of ourselves and of other people for many things.
Look on it as a shorthand or code, much as we classify a small cat to distinguish it from a huge tiger or a dog or a bird. We bring things in from the past from fairy tales, TV or what people say.
Parts of us grow up while other parts don't so we can still be affected. There is a tendency now for greater flexibility over what makes up personality.
Some people wax lyrical about archetypes and that's fine if that suits you - archetypes don't need to be anything fancy, but just having an image of a teacher, a nurse, a cowboy or justice in general.
There probably are ones that many people tend to choose: guardian angels, fairy godmother, perhaps Freudian or Jungian ideas of what makes people tick or the world keep on turning.
So if people say you will or won't do something because of some 'profile' or test, take no notice!


People can feel more secure in a partnership or group setting which can have the advantage – or distinct disadvantage - of making anyone who is not included feel excluded and even more vulnerable
Read what Doc Matrix says about Pressures from both Outside and Within ourselves
It is not easy, or even possible, to comply with a friend, relative, partner or group on Everything
Dissing has become a part of life, whether that means discounting someone, disrespecting, discrediting, disregarding, dismissing; or being rude or unsupportive - More on this HERE;
'Scapegoating, Abuse & One-upmanship' article HERE
Believe as you want to of yourself and let detractors worry about themselves instead

The World will be a Happier Place!
DO OTHER PEOPLE LABEL YOU?
You really can Pick-Your-Own Personality Parts or Roles rather than have someone else project their needs or Labelling onto you – hoping that you will comply!
See the Doc Matrix BookList on Mind & Personality on the right
Conflicts with other people, or feeling alienated can apply to ANY situation, home, work, college, friends
But it is not easy to comply with a friend, relative, partner or group on Everything

It can be hard and lonely to go against what others say, or want, or do, or what they require of YOU

On another Page here Doc talks about Groups and Cults, how easy it can be to get drawn into something, and how hard it can be to get away from the pressures or the environment itself
Even if one is FREE to
DOC MATRIX BOOKList on MIND & PERSONALITY

'Abnormal Psychology & Modern Life' by Carson, Butcher, Miller
'A Mind of its Own' by Cordelia Fine
'A User's Guide to the Brain' by John Ratey
'Embracing Ourselves: the Voice Dialogue Manual' by Hal Stone & Sidra L Stone
'Lack of Character' by John M Doris
'Multiple Intelligences' by Howard Gardner
'Multiple Man' by Adam Crabtree
'Of Two Minds' by Fredric Schiffer
'Opening Skinner's Box' by Lauren Slater
'The Cult of Personality' by Annie Murphy Paul
'The Person: An Introduction to Personality Psychology' by Dan P McAdams
'Vital Lies, Simple Truths - The Psychology of Self-Deception' by Daniel Goleman
'Somebodies & Nobodies: Overcoming the Abuse of Rank' by Robert W Fuller
'The Brain & the Mind' ed. Bridget Giles
'The Human Brain' by Susan Greenfield
You can Make Your Own Theories!
You Don't Have to accept Other People's
Watch Video 'If Your Face Doesn't Fit'
Doc explains about Beliefs or Myths we may use to help us understand and get through things. After all, No-one has ALL the Answers do they!
Anywhere that we go for help or advice should clearly not make for a worse situation. Doc has prepared some Outline Questions you can use as a basis - or just make up your own
See Doc's 'Let's Reduce Abuse' with more Videos, Books and Links.
There is plenty of good Therapy and other help available, but things can go wrong in the situation:
People may blame themselves for that, especially if they have already been through bad experiences
DOC MATRIX BOOKLists on
~ ADVERTISING & INFLUENCE
~ CON-TRICKS & SCAMS
~ MAGIC & ILLUSION
~ BELIEFS & BEHAVIOUR
~ X-FILES and W-H-Y?
~ CULTS & GROUPS
~ MIND & PERSONALITY
~ PRESSURES & CONTEXT
EXTERNAL LINKS off-site:
~ANGER, STRESS, VIOLENCE {Whorls}
~PRISONERS & FAMILIES HELP {Whorls}
~MISCARRIAGES of JUSTICE {Whorls}
~DOMESTIC VIOLENCE, STALKING, BULLYING {Tansal}
~SEEKING HELP for YOURSELF {Tansal}
~YOUTUBE videos {Cynthialysis}
Roll the mouse over the image below

If you have tales which are relevant or funny even, let Doc know by email, making it clear whether they are Confidential or you think they could help others
Let Doc know if you find any good Links, or somewhere offering constructive or creative Help
http://whorls.wufoo.com/forms/doc-matrix/