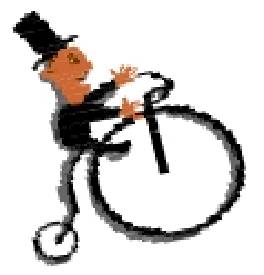 Whether they are Young or Older,
People sometimes have some Problems
A Trubble shared should be a Trubble halved, And not be a Trubble Doubled!

ALL people have Problems
SOME of the time
SOME people have Problems
ALL of the time
Everything goes into my Magic Hat
Where it will be SAFE

On another Page here Doc talks about Groups and Cults, how easy it can be to get drawn into something, and how hard it can be to get away from the pressures or the environment itself - even IF one is FREE to
Dissing has become a part of life, whether that means discounting someone, disrespecting, discrediting, disregarding, dismissing; or being rude or unsupportive - More on this HERE
Doc explains about Beliefs or Myths we may use to help us understand and get through things. After all, No-one has ALL the Answers do they!
CON-TRICKS, SCAMS & DECEPTION
BBC TV have been running 'The Real Hustle' information at www.bbc.co.uk/programmes/b006m8mf

If you can watch videos you can see the Top 30 voted Hustles at www.bbc.co.uk/realhustle/besthustles/ & see YOUTUBE

BOOKS you may find useful are:
'Conned: Scams, Frauds & Swindles' by James Morton & Hilary Bateson
'The Con Artist Handbook, the Secrets of Hustles & Scams' by Joel Levy
'The Art of Deception' by Kevin D Mitnick & William L Simon
'More Scams from the Great Beyond' by Peter Huston
'The Art of the Steal' by Frank Abagnale
'The Sting - True Stories of the World's greatest Conmen' by Nigel Blundell
'The Tourist Trap - when Holiday turns to Nightmare' by Patrick Blackden
'The Body Language Bible' by Judi James
'The Book of Tells' by Peter Collett
'The Call of the Weird - Travels in American Subcultures' by Louis Theroux
'The Dilbert Principle' by Scott Adams
'A Mind of its Own - How your Brain Distorts & Deceives' by Cordelia Fine
'The Psychology of Self-Deception' by Daniel Goleman

ADVERTISING & INFLUENCE
'Buy-ology' by Martin Lindstrom
'Decoding Advertisements - Ideology & Meaning in Advertising' by Judith Williamson
'Emotional Design - Why we love (or hate) everyday things' by Donald A Norman
'Of Cigarettes, High Heels, & Other Interesting Things' by Marcel Danesi
'Predictably Irrational' by Dan Ariely
'Stack & Sway - the new Science of Jury Consulting'
by Neil J Kressel & Dorit F Kressel
'Techniques of Persuasion' by J.A.C. Brown
'We Know What You Want - How they change your Mind' by Martin Howard
'The Want Makers' by Eric Clark
DO OTHER PEOPLE LABEL YOU?
You really can Pick-Your-Own Personality Parts or Roles rather than have someone else project their needs or Labelling onto you – hoping that you will comply!

See DOC's WARNING on the right
WARNING !
'The Sociopath Next Door' by Martha Stout
'Without Conscience - the Disturbing World of the
Psychopaths Among us' by Robert D Hare
'Erased - Missing Women, Murdered Wives'
by Marilee Strong
It's important to REALLY
THINK for YOURSELF!

DON'T GET DRAWN INTO
SOMEONE ELSE'S WEB
People have a need to be A PART
of what is going on around them,
other People and so on, and to keep themselves APART too

And it can lead us into Trouble!
You can Make Your Own Theories!
You Don't Have to accept Other People's
Watch Video 'If Your Face Doesn't Fit'
Remember that some people may genuinely believe in what they are telling you
Logical Fallacies - errors of reasoning or argument - use a Search Engine or www.logicalfallacies.info/ which categorises fallacies of relevance, ambiguity, or presumption
Multiple Intelligences/ Aptitudes
Nidotherapy - changing someone's environment rather than trying to change them
Ponerology - wickedness or evil
Psychohistory website of Lloyd deMause at www.psychohistory.com - the 'science of historical motivations';
the 'emotional origin of social/political behavior of groups & nations'
'Scapegoating, Abuse & One-upmanship' article HERE
Social Engineering for strategies from the computer environment and used more generally, to gain information or to manipulate - often via Social Compliance
See Public Relations, 'Spin', Salesmanship,
Anthropology, Memes - or start from your own interests
See Doc Matrix Pages on
Missing from Home/ Runaways

NEW on this SITE
Human Rights, Miscarriages of Justice,
Mental Health & Discrimination
Doc's Notes on Personal Safety
ABUSIVE or damaging THERAPY/HELP
Go to Let's Reduce Abuse on this Website about seeking therapy or when help 'goes wrong'
Other DOC MATRIX BOOKLists on

~ BELIEFS & BEHAVIOUR
~ X-FILES and W-H-Y?
~ CULTS & GROUPS
~ MIND & PERSONALITY
~ PRESSURES & CONTEXT
EXTERNAL LINKS off-site
~ANGER, STRESS, VIOLENCE {Whorls}
~PRISONERS & FAMILIES HELP {Whorls}
~MISCARRIAGES of JUSTICE {Whorls}
~DOMESTIC VIOLENCE, STALKING, BULLYING {Tansal}
~SEEKING HELP for YOURSELF {Tansal}
~YOUTUBE videos {Cynthialysis}
Roll the mouse over the image below

Doc Matrix 'Trubbles' Animated Flash Site (Flash Player 8 or above) is at http://myweb.tiscali.co.uk/docmatrix
If you have tales which are relevant or funny even, let Doc know by email, making it clear whether they are Confidential or you think they could help others
Let Doc know if you find any good Links, or somewhere offering constructive or creative Help
http://whorls.wufoo.com/forms/doc-matrix/